About the APS and Independence Day
The Anglo Paraguayan Society celebrates the"Independence Day of Paraguay" that started on the 14 and 15th with the Independence declared on the17th of May 1811.
Conmemoración del dia de la Independência
Participamos a todos los Miembros de la Sociedad y visitantes de que nuestra fiesta Patria se realizara:
Dia: 18 de Mayo 2019
Hora 18:45 -12:30am
Local: Rembrandt Hotel -

11 Thurloe Place, London SW7 2RS (Frente a London Oratory)
Una noche espectacular con la presencia de:

Actor - Jorge Ramos que nos deleitara con una obra teatral Unipersonal sobre "José Gaspar"Fondo
musical al vivo con: Germán Barbudez (guitarra) Alberto Sanchéz (Arpa Paraguaya)
Actuación especial de 'R

omy Martinez

' La voz melodica de Ciudad del Este

Cena deliciosa - Tres platos con 1/2 botella de vino e agua mineral por persona.

Paraguayan Folk Dance group "Eirete"

DJ y baile

This event is now SOLD-OUT
El presidente de la Anglo Paraguayan Society
Saluda
A todas/os distinguida/os miembros, amiga/os visitantes y tiene el gusto de invitarles a la copa de champagne en el Hotel Rembrandt sito en 11Thurloe Place, London SW7 2RS.asi como ofrecer su preferencia gastronómica para el día 18 de Mayo as la 18:45 en punto para la cena con motivo de celebrar la fiesta de Independencia del Paraguay.
Elijan vuestra preferencia de menú y envíen vuestra preferencia al correo electrónico de [email protected]
Asimismo, le ruega que lo hagan antes del día 3 de Mayo de 2019 y hagan extensiva la presente a todas vuestras amistades que aún no lo sepan y que desean disfrutar de esta noche cultural.
Les invitamos a navegar por el sitio de sociedad http//www.paraguaysocietyuk.org
Recuerden que, si tienen dudas, pueden comunicarse con nosotros y te ayudaremos dentro de lo expuesto 02087439608
1 - Smooth chicken liver parfait Served with cranberry and orange marmalade
2 - Honeydew melon and prawn salad Drizzled with
3 - Homemade warm asparagus and shallots quiche (V) Served with red pepper coulis
1 - Salmon fillet studded with king prawns Served with Hollandaise sauce.
2 - Chicken breast wrapped in Parma ham with a rocket Serve with pesto and cream sauce.
3 - Wild mushroom and herb risotto (V) Served with truffle scented tomato coulis.
1 - Hazelnut and chocolate teardrop
2 - Lemon tart served with a crème de menthe sauce
3 - Fresh fruit salad
Muchas gracias
Saludos cordiales
Nuno A.R. Vinhas
Presidente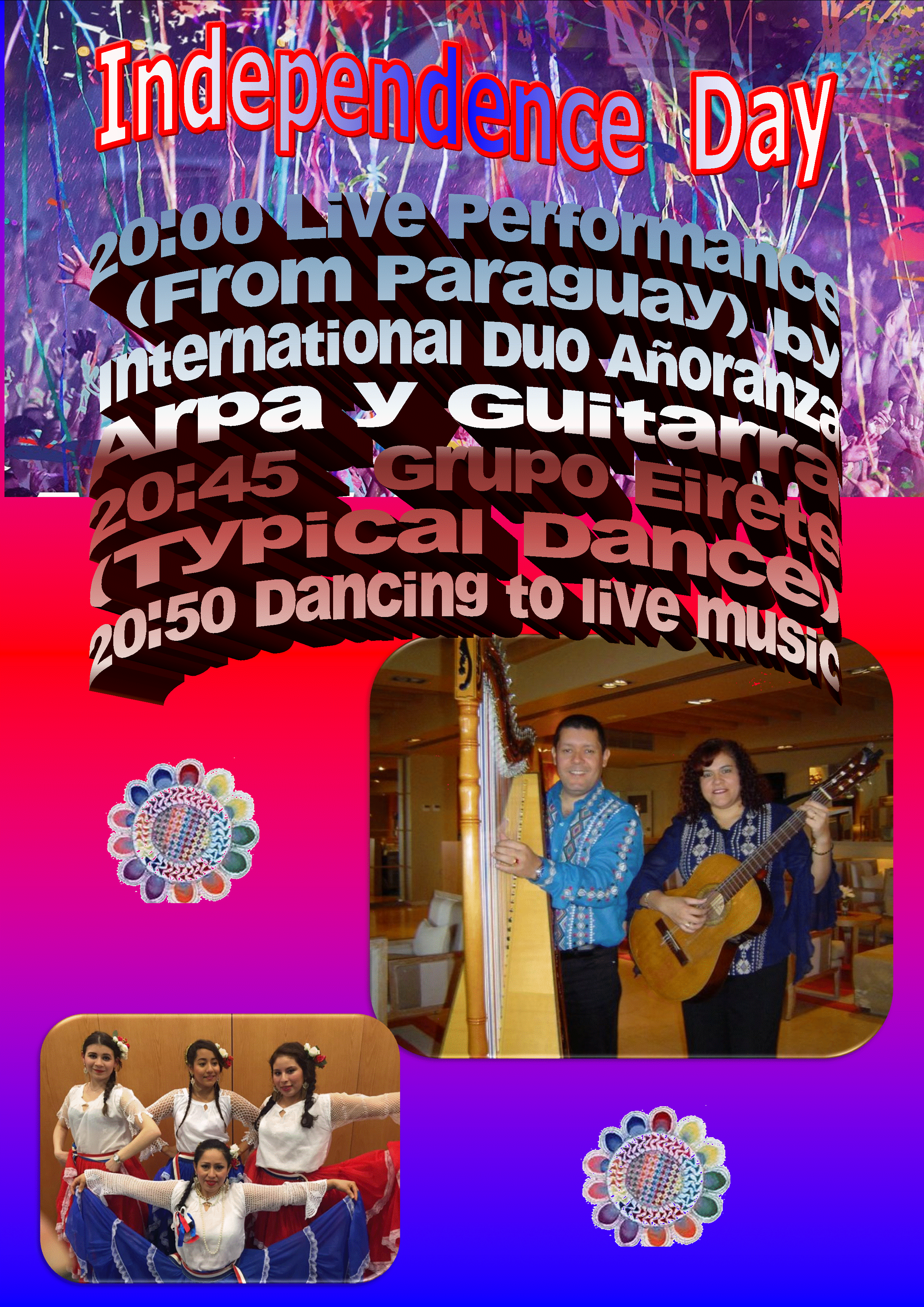 /